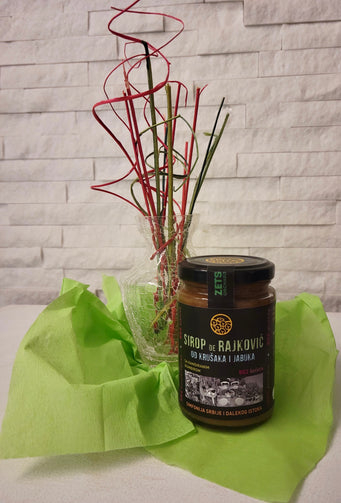 ZETS Sirop de Rajkovic from Pears and Apples, 210g
ZETS Sirop de Rajkovic from Pears and Apples, 210g
Regular price

Sale price

450.00 RSD
Pošaljite nam poruku ukoliko želite da saznate više o našim proizvodima.
Symphony of Serbia and the Far East.
Product description:

Sirop de Liège is the famous Belgian pear and apple marmalade. Our unique Serbian spread has an authentic taste made from our colorful fruit, without added sugar. Candied ginger gives it a special note. 600 grams of fruit were used for each jar. The method of preparation and the taste are completely different from the Belgian product. The orchards are on the family estate in the village of Rajkovic. We decided that one of the products would perpetuate that name to honor the beautiful natural landscape that surrounds our orchard.
Our recommendation:
Classy filling for pancakes, crêpes, biscuit roll, vanilla cakes, and tea party for friends.
Hard goat cheeses with our Sirop de Rajkovic spread, crackers, and a glass of wine make an elegant meze.
Satisfy your sweet tooth cravings with butter muffin spread with our Sirop de Rajkovic, and a cup of tea or coffee on the side.
A good morning spoonful with no remorse.
Fantastic addition to Greek yogurt.
*100% Natural, without additives and preservatives, without gluten, and without added sugar.*
Couldn't load pickup availability