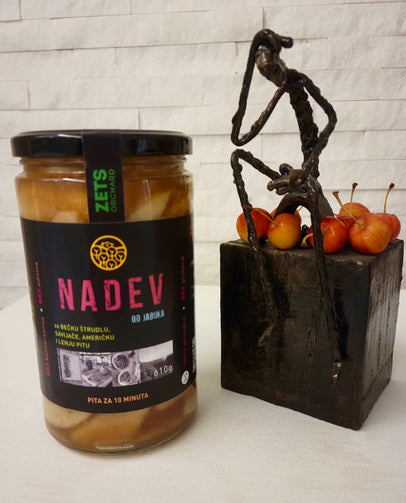 ZETS Apple Pie Filling, 610g - for Viennese strudel, apple turnovers, American pie, and Serbian lazy pie
ZETS Apple Pie Filling, 610g - for Viennese strudel, apple turnovers, American pie, and Serbian lazy pie
Regular price

Sale price

500.00 RSD
Pošaljite nam poruku ukoliko želite da saznate više o našim proizvodima.
Strudel ready in 10 minutes.

Product Description:
Ready-made filling for pies and cakes. Prepared for YOU from our organically grown apples gelatinized with ZETS juice and a selection of spices.
Our recommendation:
For Viennese strudel, add chopped walnuts, raisins softened in rum, ground biscuits, oatmeal, and vanilla sugar.
The filling is enough for three pastry crusts or two puff pastry rolls. Enrich the strudel or pie as desired with the addition of chopped walnuts. Sprinkle the baked pie with powdered sugar as desired.
For an American, German or French pie, use a baking sheet coated with greaseproof dough. Bake the dough for 15 minutes before pouring the filling. Decorate with a dough net, dough crumbs or almond leaves towards the end of baking.
*No additives and preservatives, no pectin or any other jelly products, and gluten-free.*
Couldn't load pickup availability